The arrival of squirming, squeaking puppies elicits universal joy and awe at the miracle of new life. From conception to delivery, a dog's pregnancy captivates owners as we eagerly track the gestation timeline, crucial milestones, and indicators of impending labor. Comprehending the profound process empowers us to fully appreciate and participate in it, emerging as prepared, capable caretakers.
Discover the wonders of how tiny new lives come into the world. Gain valuable insight into the developmental phases of canine pregnancy and essential ways owners can nurture the mother dog and pups-to-be. Let us explore in depth the remarkable 63-day journey from conception to birth.
The 63-Day Gestation Timeline and fetal development
Canine pregnancy follows a predictable 63-day timeline, give or take a few days among individuals. Here's what owners can anticipate:
Weeks 1-2 – Fertilization and implantation into the uterus occurs. Microscopic embryos multiply exponentially.
Weeks 3-4 – Rapid organ formation develops the puppies' major organ systems and skeletal structures.
Weeks 5-6 – Sex organs, teeth and fur coats develop as fetuses enter the final growth phase. Ultrasound detects steady heartbeats.
Weeks 7-8 – Puppies gain significant weight and the abdomen enlarges noticeably. They begin to move in utero.
Week 9 – Milk production starts as progesterone levels fall. Light, sporadic uterine contractions may begin.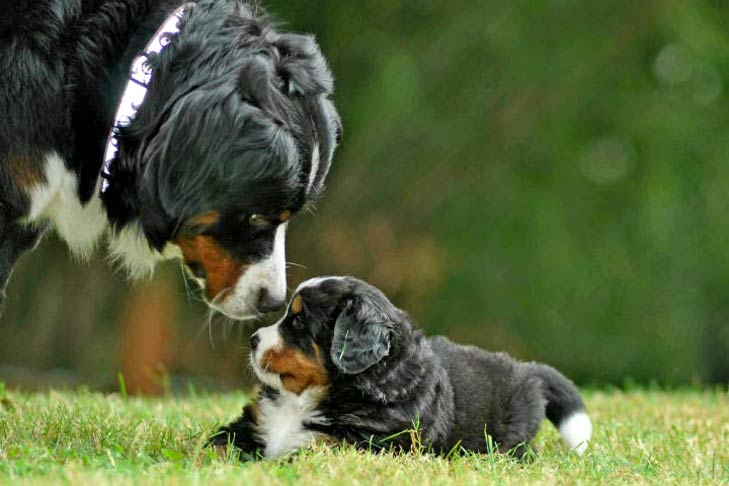 Providing Attentive Prenatal Care and Preparation
From tailored nutrition to birthing prep, conscientious owners support the mother dog through the demanding late pregnancy period:
Feed high-quality puppy food to nourish the rapidly growing litter.
Limit stress, exercise, and exertion, especially in weeks 8 and 9.
Prepare a clean, comfortable whelping area several days before the due date.
Research emergency veterinary clinics able to handle any birthing complications.
Watch closely for early labor signs like nesting behavior, panting, and restlessness.
Recognizing the First Stage of Labor
In the 12-24 hours before active whelping starts, watch for these common early labor indicators:
Passing a vaginal mucus discharge tinged with blood
Rectal temperature dropping below 100°F
Panting, trembling, and shivering
Loss of appetite, anxiety, and restless pacing
Frequent trips in and out of the whelping area
Supporting the Mother Dog Throughout the Whelping Process
The intense process of actively birthing puppies demands an owner's calm, compassionate presence:
Provide comforting praise, petting, and frequent water/food breaks
Gently clean puppies' airways as they emerge, tearing sacs if needed
Keep whelping area warm, clean, and free of obstructions and hazards
Record arrival time and pup number of each puppy delivered
Call the veterinarian promptly if labor halts or the mother seems in great distress
Celebrating the Miracle of New Life
From the first pregnant swell to the last sweet puppy delivered, few joys compare to helping shepherd new lives into the world. The pregnant journey captivates as we support the mother and eagerly track each pup's development. What an honor to nurture our dogs through this beautiful, natural wonder.